Baristas Coffee School was established in Magh 23rd, 2073 in Kathmandu. Currently, we have four training branches starting from Dillibazar, Bhaktapur(Gatthaghar) (which also has its own coffee shop), Lazimpat and Lalitpur. We are also a member of the Specialty Coffee Association (SCA), which is a global company working towards the sustainable coffee industry through a collaborative and progressive approach. Our first and foremost priority is Barista training, but we also deal with all kinds of the espresso machine and marketing Nepalese coffee to its finest. 
BEST BARISTA CHAMPIONS 2019
The Baristas Coffee School is the winners of Best Barista Championship Nepal 2019 winning the Championship and Third Position. The championship trophy was won by Muskan Kunwar and the Third Position was scored by Falguni Shrestha.
Watch Full Competition Video on Youtube
Aeropress & Latte Art Championship 2021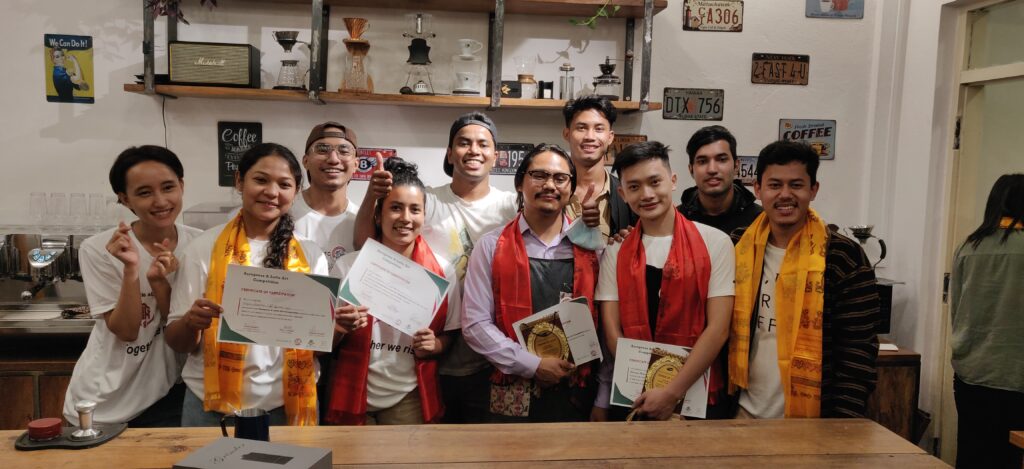 The Baristas Coffee School scored the second position on  First Aeropress Competition in Nepal 2021, Nisha Shrestha and Latte Art Championship , Falguni Shrestha.
Trained Baristas are high in demand in all major countries. With our training, you'll have higher chances of getting jobs with better salary. Our students are a testimony to that.