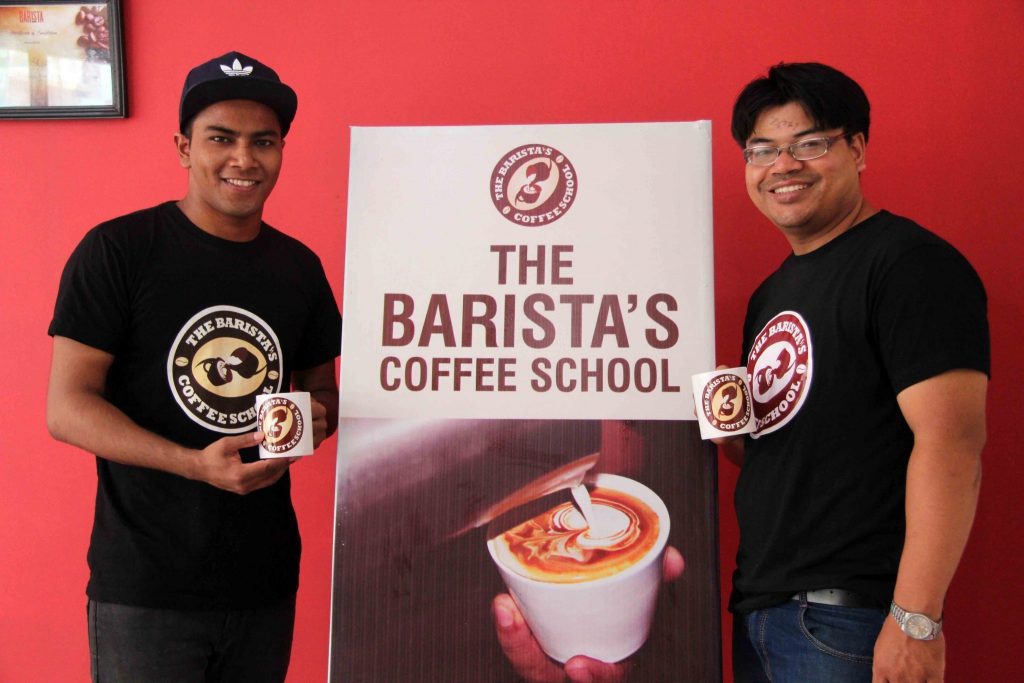 Know More About Baristas Coffee School?
Baristas Coffee School was established in Magh 23rd, 2073 at
(first location).
Currently, we have three training branches starting from Dillibazar, Bhaktapur (which also has its own coffee shop), and recently in Lazimpat. We are also a member of the Specialty Coffee Association (SCA), which is a global company working towards the sustainable coffee industry through a collaborative and progressive approach. Our first and foremost priority is Barista training, but we also deal with all kinds of the espresso machine and marketing Nepalese coffee to its finest.
Founder
: Binod Shrestha & Manoz Shahi
Started as a cook in 1999 A.D. and worked in Everest Hotel till 2007 A.D. Later that year, he expanded his horizon from Nepal to Incity Loaft in Singapore for a year and further took a leap to Hilton Resort in Abu Dhabi. During his 27 years of career, he has also worked in Malaysia. Mahabir Centre for Nepal Connection and Barista Lavazza, Nepal as head chef.
Has Barista Experience of over 5 years now. Started his Barista Training in New Delhi, India when Barista Lavazza was opening its first Franchise in Nepal around 2068 B.S. Starting from barista trainee, stepping forward to Supervisor of Lavazza to Manager. He finally found his motive of marketing Nepalese Coffee and training young adults to a professional Baristas, so he finally stepped up creating The Baristas Coffee School. Recently, he completed his Specialty Coffee Q Grading Training from Puer, China from TORCH COFFEE LAB.
Today Baristas Coffee School
Baristas Coffee School has been active for three years now. We are working our way not only to create a brand where people can sign up for proper barista training but also to create awareness about Nepalese coffee from its farming, quality to highlighting stories of the farmers all over the world. We also help our former students through social media with any questions or concerns regarding espresso machines to coffee quality. Additionally, we also help our students with internships and job placements. However, we do not guarantee them a job itself since it depends on them, their skills and how they present themselves to the interviewers.
For any questions about training or coffee in general feel free to shoot us a message in following social media platforms:
Snapchat: thebaristascoffeeschool
Tik Tok: thebaristascoffeeschool
Winner | Best Barista Champion (2019): Muskan Kunwar
Second Runner Up | Best Barista Champion (2019): Falguni Shrestha
Hands on Pen:- Suweksha Shrestha